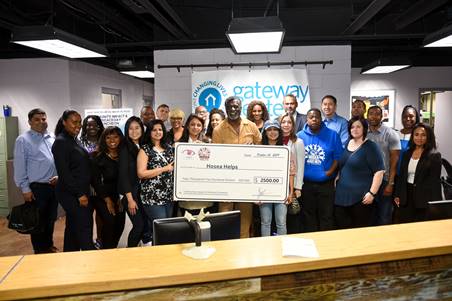 On Monday, October 14, Insights Marketing, BMS and Lancesoft in partnership with Hosea Helps presented the Insights Community Impact and Outreach Day Luncheon at The Gateway Center in the heart of Downtown Atlanta. 
Men and Women experiencing varying levels of hardship, lack and homelessness were gifted with backpacks filled with survival kits, antibacterial wipes, pajamas, deodorant, socks, gloves, flashlights and more. Guests also enjoyed job readiness training, free haircuts, free shoes, business attire, clothing and a hot meal courtesy of Big Daddy's. The outpouring of love was done in conjunction with The National Minority Supplier Development Council® (NMSDC®) National Conference that kicked off at the culmination of the 49th Annual Atlanta Pride Festival weekend. Insights Marketing is headquartered in Atlanta, GA and their entire company passionately gives back in the Metro-Atlanta community.
Insights Agency Overview and NMSDC | NGLCC Experience
With over 21 years of industry knowledge and expertise, Insights Marketing has produced some of the most popular & successful special events during numerous national conventions and conferences.  This year marks the 16th year of Insights Marketing producing events during the NMSDC annual conference with our corporate partners and MBE clients.  The National Minority Supplier Development Council® (NMSDC®) provides a direct link between corporate America and minority-owned businesses.  Additionally, 2019 will be the 3rd year of Insights producing award winning, community outreach and social events with and on behalf of BMS, during the NGLCC & NMSDC National Conference. The National LGBT Chamber of Commerce® (NGLCC®) aims to expand the economic opportunities of the LGBT business community. Both, NMSDC and NGLCC, are one of the country's leading business membership organizations. They were chartered in 1972 to provide increased procurement and business opportunities for minority businesses of all sizes.
Charitable Partners: Hosea Helps 
48-year mission is to nourish hungry people, shelter the homeless and lead the community in the fight against hunger & homelessness.Insights Marketing president, Keshia Walker, sits on the board for Hosea Helps, an Atlanta based 501c3 Non-Profit Charity. Hosea Helps received a special $2,500 check presentation during the event.
Gateway Center
 Gateway Center is a homeless service center designed to make homelessness rare, brief, and non-recurring for individuals and families experiencing homeless. Utilizing effective, reliable, and relevant solutions paired with our collective impact model, Gateway Center serves as the primary  starting point for individuals and families experiencing homelessness in Atlanta. Gateway Center provides access to critical services and housing for the most vulnerable people in out community such as coordinated entry, basic needs services (i.e. showers, clothing closer, etc.), short-term residential housing (shelter), linkage to healthcare (medical, behavioral, and dental), and employment resources.