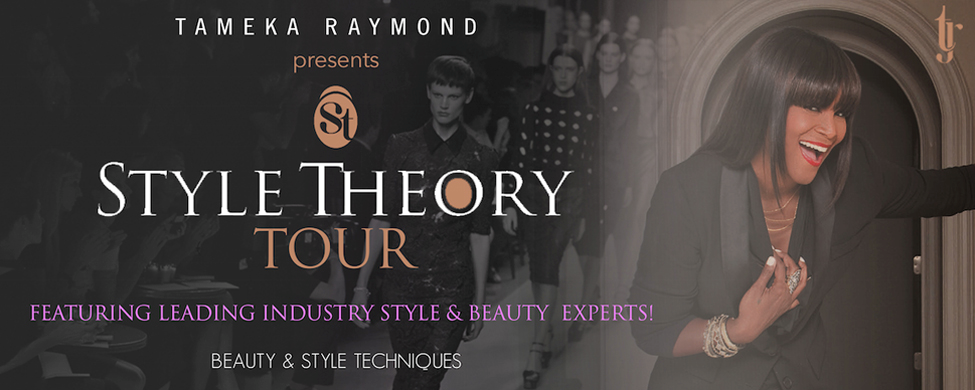 January 5, 2015 (ATLANTA) – Celebrity wardrobe stylist and business maven Tameka Raymond, along with a team of top style and beauty insiders, set out to focus on inner- and outer-beauty with the multi-city Style Theory Tour, a fun, interactive, empowering workshop aimed at identifying and enhancing your best self. The 1-day workshop tour will kick off in Atlanta on January 17, 2014 from 9:30am – 4:30pm at a private location,  and bring together existing and aspiring creative professionals as well as everyday girls and guys for a day of learning from some of the industry's top style and beauty experts.
The Style Theory Tour team consists of top professionals in the style and beauty world whose accomplishments are as impressive and expansive as their resumes. The glamour squad will share knowledge and experiences including industry tips and tricks, best practices and developing trends to arm attendees with the tools to make them and their clients the "total package." The workshop will include a wide range of topics including, but not limited to: budgeting, fashion faux pas, protective/natural hair styling tips, stylist vs. personal shopper traits, proper makeup application, displaying professionalism, identifying clientele and keys to being your best self. "Having worked with celebrities for more than two decades, I understand how important style and beauty is, both on the inside and out. The fashion and beauty industries have gained mainstream attention thanks to popular culture, and our goal with the Style Theory Tour is to equip our stylish attendees with information in a fun,engaging and empowering environment that will propel their personal style as well as that of those around them, clients and friends alike," states Tameka Raymond, Celebrity Wardrobe Stylist and Founder of the Style Theory Tour.
Style Theory Tour 2015 Tour Dates
JAN 17: Atlanta, GA
JAN 24: Charleston, SC
JAN 31: Charlotte, NC
FEB 7: Las Vegas, NV
FEB 28: Los Angeles, CA
MAR 14: Miami, FL
MAR 21: Dallas, TX
APR 4: Nashville, TN
APR: 11: Houston, TX
APR 25: New Orleans, LA
MAY 2: San Francisco, CA
MAY 9: Washington, D.C.
MAY 16: New York, NY
May 30: Chicago, IL
Registration, currently open to the public, is $200 and includes confirmation for attendance to the event, a copy of Tameka Raymond's brand new book "White Bra's and 101 Style Faux Pas", live DJs in each city and lunch for registered attendees. Partial proceeds from the Style Theory Tour will benefit Kiles World Foundation (501 c3) that focuses on art education for youth between the ages of 8-17. Interested participants may register at: www.styletheory.eventbrite.com.
Join The Conversation: 
IG: @StyleTheoryTour | #StyleTheoryTour
About The Style Theory Tour:
STYLE THEORY is a thought provoking and enlightening workshop for aspiring Fashion stylists and Beauty professionals alike, as well as those who aim to become more of the total package! This intimate learning experience is suitable for women and men, and will answer questions about makeup application, fashion styling, and hair care.
STYLE THEORY was created to inspire women and men to find their own style, and empower them to assist others in doing the same. The purpose of this workshop is to teach others how to become the total package from the inside out. We believe that style is key, but style is not only external. Style is within and finding true beauty begins with ones mindset. The STYLE THEORY workshop is designed to teach the ins and outs of styling from inner (mental) beauty to hair, makeup, and how to dress for every occasion.
About Tameka Raymond:
Behind every well-adorned star there stands a chic, trend-setting stylist that composes the modern looks we see on our favorite celebrities from their accessorized coifs to a perfectly matched pair of stiletto-heeled Louboutins. Shopping for the next style craze was just one of the many responsibilities that Tameka Raymond juggled for two decades. After attending the Fashion Institute of Design and Merchandising,her professional career began as a dresser for Giorgio Armani fashion shows. She later lent her style dexterity to chart toppers Lauryn Hill, Jay-Z, Toni Braxton, Usher, Chris Brown, Mary J. Blige, Chris Tucker, Ciara, Keri Hilson, Maxwell, Nas, T.I, Janelle Monae, Dr. Dre and soul singers Patti Labelle, Chaka Khan and Aretha Franklin. Her fashion work has graced the covers of Harper's Bazaar, Esquire, GQ, Rolling Stone, Essence, Seventeen, People, Vibe and Details. Now the mother, philanthropist, and designer launches STYLE THEORY.